A Christmas Alone | Review
It's "A Christmas Alone" Written by Christan van Slyke and Wayne D. Burdette Jr., this story of bereavement and the healing effects of seclusion during the festival season is sincere and realistic. Christine, a character in the story, is a woman who is struggling with the tragic loss of her father. She sets off on a solitary quest to find comfort in her own company in order to escape the oppressive customs and expectations of the holiday season.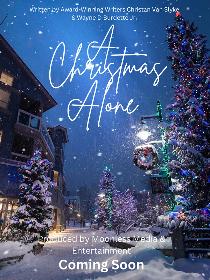 Through her actions and her reflective conversation, Christine is able to skillfully express the complexity of her personality in the screenplay. The audience is taken into her world of seclusion as she pulls away from family and friends, letting us to understand her desire for solitude and inner calm. Everyone can identify with the story's topic of coping with loss, which makes it sad and realistic.   
The Yuletide season serves as a backdrop, and the writing expertly balances Christine's internal battle with the joy and celebration on the outside. Her selected lonely retreats are well depicted in the locations, which also reflect her emotional state. Every setting, from chilly cabins in the woods to tranquil mountain retreats, takes on a personality of its own and helps Christine feel connected to her surroundings. 
The pacing of the writing is well-balanced, providing each character enough time to develop and come full circle over the course of the film's plot. It incorporates touching memories of Christmases spent with her father in the past, shedding light on their relationship and highlighting the gravity of her loss. 
While the story in "Christmas Solitude" is heartwarming and meaningful, there are some possibilities for future research that can improve the overall impact. The audience would be better able to comprehend the dynamics Christine is trying to avoid if her ties with her family and friends were developed before she made the decision to retreat. Additionally, the introduction of a potential love interest or a chance meeting with another individual who values isolation could deepen her journey and promote personal development. 
In conclusion, the moving story "A Christmas Alone" beautifully illustrates the healing power of solitude over the Holidays. It has the potential to resonate with viewers looking for tales of self-discovery, resiliency, and the significance of finding peace in the midst of tragedy due to its relatable premise and emotional depth.